Recreational Services Facility Rentals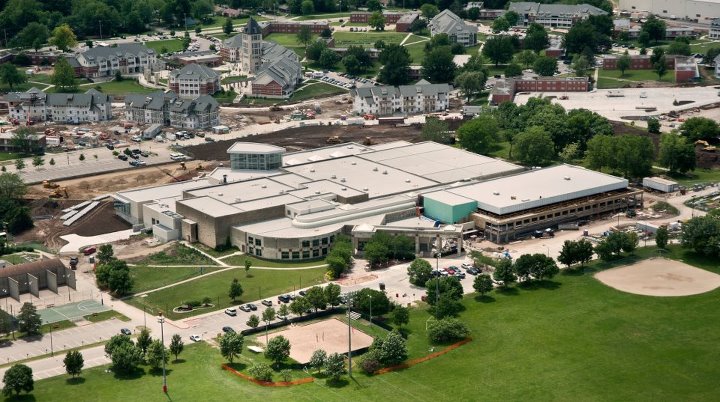 There will be no organized activities except those sponsored by Recreational Services at the Recreation Complex or surrounding areas without special permission.
Scheduling priorities
Both indoor and outdoor facilities are available for rentals as time permits as outlined below.
Priority for scheduling for rental events will be in the following order:
Recreational Services sponsored activities
OSAS registered student organizations
K-State departments
Non-university organization activities
Rental policies
Rental groups must abide by established Recreational Services policies.
Facility rental reservations will not be taken for any one group on an ongoing basis.
For those groups who charge admission, and/or have merchandise sales, there will be a 15% surcharge (15% of billing grand total) added to the rental cost.
Groups will be responsible for their users' actions and conduct.
No large banners or signs will be displayed in any area with any sponsors' names listed without prior approval from Rec Services.
Facilities, fields, parking lots, etc., are to be left in the same or better condition than found. Charges will be assessed as necessary for clean-up, damages or loss of equipment. Any equipment loaned or rented will be returned on time as agreed. Damaged or lost equipment will be charged at replacement cost plus 10%.
Under no circumstances will field use be allowed if the fields are deemed unusable. Recreational Services staff will make the final determination concerning playability of fields, up to and including game or use time.
Parking permits are required Monday-Friday, 7 a.m.-4 p.m., at the Recreation Complex. Arrangement and fees for parking are not included in the rental contract and must be arranged through Parking Services, 101 Parking Garage, telephone 785-532-7275. Metered parking is also available.
Reservations
Complete the Facility Request form by clicking here. Fees are listed below in the Schedule of Charges.


Review policies and fees. Complete the Facility Request Form and return it with deposit to the administrative office of the Chester E. Peters Recreation Complex along with other required documentation such as insurance coverage, tax exempt paperwork, etc. Tier 1 (K-State student organization) shall be required to submit a $25 deposit for any rental. Tier 2 (K-State departments), Tier 3 (off campus tax exempt), and Tier 4 (off campus) shall be required to submit a deposit of 25% of the estimated total rental cost or $100, whichever is the greatest amount, as a deposit for any rental. Groups with an estimated billing of less than $100 may be charged a deposit of the total estimated billing for the event.
Non-university organizations must have proof of liability insurance listing Kansas State University and Kansas Board of Regents as additionally insured, with the minimum limits of $1,000,000 personal injury coverage per person and $50,000 personal property coverage per occurrence.
Submit the Facility Request Form a minimum of 14 days in advance of the event.
Reservations will be considered if they do not interfere with established Recreational Services' programs and we are low on use times.
Reservations may be refused (i.e., for other program priorities, failure to follow policies, damage to facilities, failure to meet previous financial obligations, etc.)
Upon notification of approval of the request, a meeting will be scheduled with Rec Services staff. All rental group's dates, space requirements, and times shall be finalized no later than 14 days prior to the event. The Facility Rental Agreement must be signed and full payment of the deposit must be received. The final billing will reflect, at minimum, these agreed upon parameters and shall be no less than the total rental cost amount estimated 14 days prior to the event.
Cancellations
A 14-day notice of cancellation is required to receive full refund of a deposit.
No refund of under $25 will be made for fees charged by Recreational Services.
Supervision
Recreational Services will determine the number of departmental supervisory staff necessary for the event, including any set-up or clean-up necessary.
Groups under the age of 18 must have a minimum of one adult per area being rented when indoors.
Charges for approved use
Student Organizations registered by OSAS will be allowed to reserve facility space at no cost for practices, special events or philanthropies if the organization receives no financial gain from the use of the facility. Student organizations are allowed no more than 6 occurrences per semester (no more than 3 occurrences in a week or more than 4 occurrences in a month.) After 6 occurrences, Tier 1 rates apply.
In order for the Tier 1 rate to apply to an OSAS student organization, K-State students shall be actively involved in the rental and shall not apply for a student organization rate for an outside entity. All other associated charges for employee staffing, equipment rental and damages will apply.
Reservation of the entire MAC gym by student groups shall be limited to no more than 2 hours. Any reservation in excess of 2 hours by student groups shall count as another separate reservation of the 6 allowable reservations for the semester by the student group.
When approved use is allowed, the following charges will be in effect:
Tier 1. OSAS Registered Student Organization
Tier 2. Official K-State department or department conference group. This includes K-State Athletics department sponsored sport camps.
Tier 3. Off-campus organization with Kansas tax-exempt or nonprofit status. A copy of the Kansas exemption certificate must be submitted to Recreational Services with the return of the Facility Request Form.
Tier 4. Off-campus organization.
For Climbing Wall rental information click here.