Personal training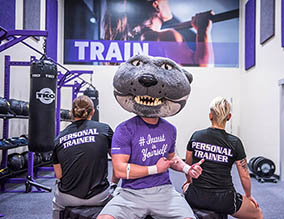 Rec Services personal trainers can develop an exercise program specifically for you or for you and a buddy. Certified trainers have the knowledge, skills, and experience to help you achieve your fitness goals. All Rec Services personal trainers have completed and hold a nationally accredited personal training certification. Each trainer will design a program to meet your individual needs. Personal trainers will follow industry standards and guidelines put forth by nationally accredited fitness organizations to provide the very best results. *Results will vary according to each individual and are dependent on personal commitment and realistic goals.
Personal Training Package Options
Class Description
Student
Other**
Fitness Assessment
Series of tests to evaluate the current level of fitness. Tests include resting heart rate, blood pressure,
cardiovascular endurance, muscular strength/endurance, flexibility, and body composition.
$18
$28.75
Quick Start
The first session always consists of a fitness assessment and consultation. Second sessions are used as a
1-hour workout.
$25
$34.50
3 personal training sessions*
1-hour each
$60
$103.50
6 personal training sessions*
1-hour each
$110
$189.75
12 personal training sessions*
1-hour each
$200
$333.50
18 personal training sessions*
1-hour each
$250
$448.50
*Initially, the first session of each 3, 6, 12, or 18 sessions personal training package is always devoted to the administration of fitness testing.
**Faculty/staff, alumni and other approved individuals who have current facility memberships.
Read more
Policies
All applications and purchases must go through the Rec Services Administrative Office. Applications will NOT be accepted at the North or South Service areas.
Training sessions are non-refundable and non-transferable. Sessions will expire in 90 days if not used. Exceptions may be made at the discretion of the Assistant Director-Fitness for extenuating medical circumstances.
Sessions must be rescheduled 24 hours in advance or they will be forfeited.
All sessions must take place at the Peters Recreation Complex or the Ahearn Natatorium. If training at the Natatorium, clients are required to have a current Natatorium membership.
*All clients or prospective clients must be at least 18 years of age or older and a current K-State student or Rec Services member.
Buddy Personal Training
This type of personal training program allows you and one other friend to work with a Wildcat Personal Trainer for one-hour training sessions. You will save money and can motivate each other to reach your ultimate fitness potential. Buddy training is an exceptional way for both you and your friend to track fitness progress while having fun during your workout.
| | | |
| --- | --- | --- |
| Buddy Training Options | Student | Other** |
| 3 PT buddy sessions | $45 per person | $80 per person |
| 6 PT buddy sessions | $80 per person | $140 per person |
| 12 PT buddy sessions | $150 per person | $235 per person |
| 18 PT buddy sessions | $200 per person | $320 per person |
*Must be purchased with first package purchase. Each buddy training client will meet individually with a trainer for a one-hour fitness assessment prior to the first buddy training session.
**Faculty/staff, alumni and other approved individuals who have current facility memberships.
Read more
Participants must be 18 years or older
Participants must both be students in order to purchase student sessions. Otherwise, potential clients must purchase non-student options.
Buddy training sessions are limited to 2 patrons only.
Fill out the forms as completely as possible and to the best of your knowledge and turn them into the staff in the administrative office.
Participants must purchase and complete the buddy training initial assessment with their initial purchased sessions prior to the first buddy training session. This will allow your personal trainer to become aware of individual fitness levels and physical limitations before buddy training begin -- to prevent injury and provide a safe training environment.
Nutrition analysis is not available with buddy training and must be purchased individually.
Buddy training clients may only purchase additional fitness assessments after completing 6-8 weeks of regular training with a Wildcat Personal Trainer.
When renewing sessions, no fitness assessment for the first session, but If 6 weeks or more have elapsed since completing a training package, you will be required to perform so that your Wildcat Personal Trainer can better adjust workouts to the changed fitness abilities of you and your friend.
Exercise benefits are likely to be experienced after 6-8 weeks of routine training. After following such a workout program with a Wildcat Personal Trainer, clients may purchase a buddy fitness assessment at any time. Please notify your trainer when purchasing an additional fitness assessment.
Getting Started and Selecting your Trainer
Fill out the forms as completely as possible and to the best of your knowledge and turn them into the staff in the administrative office.
Based on your needs/goals, choose a personal training package option.
Packages may be purchased in the administrative office during hours of operation.
Once you have purchased your sessions, please allow a maximum waiting period of 7 business days for initial contact from a personal trainer that has been selected for you. If there is a waiting list, you will receive an email stating this from the Assistant Director of Fitness and Wellness.
During this waiting period, a review of your medical and exercise histories will be conducted to ensure no risk factors are present.
A physician's clearance may be required when questions regarding your medical condition/history are answered "yes" as this may indicate higher risk factors. The clearance can be faxed to Recreational Services at 785-532-4983 or delivered to the administrative office at the Rec Complex with your completed personal training client forms.
If you are pregnant or your health changes prior to exercising, you must speak with your doctor before meeting with a personal trainer.
Personal training forms
Selection of a trainer
Clients will be assigned a trainer based on a specific request, client availability, client needs/goals and trainer experience. This process could take up to 7 days to complete or longer if there is a waiting list. If the client is unhappy with his/her assigned trainer after having completed any number of sessions, that client may request a different trainer by contacting Megan Maransani at maransani@k-state.edu, Assistant Director-Fitness & Wellness.
Fitness assessment
The first session of all new clients will consist of a fitness assessment. The purpose of a fitness assessment is to establish your baseline fitness levels in the following areas:
Cardiovascular endurance
Muscular strength and endurance
Flexibility
Body composition
Establishing your baseline fitness levels is of utmost importance for your trainer. He/she will use this information to design an exercise program specifically for you to meet your individual goals.
All other sessions
All sessions of a personal training package will be one hour in length and may include a variety of:
Strength/resistance training
Cardiovascular training
Flexibility training
Session scheduling will be held at the convenience of the client and trainer. The frequency of training is at client discretion.
Frequently asked questions
Learn more information about our personal training services.


Personal Training Policy
According to the American College of Sports Medicine (ACSM), personal training consists of a pre-participation health screening, administration of programs designed to enhance muscular strength/endurance, flexibility, cardiorespiratory fitness, body composition and any motor related skill components. A personal trainer can also be defined as a certified exercise professional with the knowledge and expertise to offer advice and guidance in the areas of exercise and fitness. In order to ensure the safety of our patrons, Rec Services prohibits outside personal training. Personal training may ONLY be performed by K-State Recreational Services Personal Trainers. For further information on personal training and professional certifications, please refer to the following websites
or contact a Recreational Services professional staff member.
Personal training at the Chester E. Peters Recreation Complex is restricted to only those individuals who have been specifically employed by Recreational Services for the purpose of being a personal trainer. Any participant who is observed to be conducting or suspected of conducting any portion of personal training with a patron in the Recreation Complex, outdoor facilities, or natatorium, who is not a Recreational Services staff personal trainer will be asked to cease the activity and may have membership privileges revoked. An individual may be approached and questioned regarding unauthorized personal training if he/she appears to be exhibiting any of the following (but not limited to), or related behaviors:
Writing and/or designing a fitness or workout program for a patron.
Explaining and providing exercise directions to a patron or group of patrons.
Assisting a patron with technique, or any specific instruction, but not exercising with that individual during all portions of the workout.
Directing exercise order or duration for a patron.
Assisting a patron with equipment and adjustments.
To sign up for a Recreational Services Personal Trainer, please stop by the administrative office at the Rec Complex.