K-State Challenge Course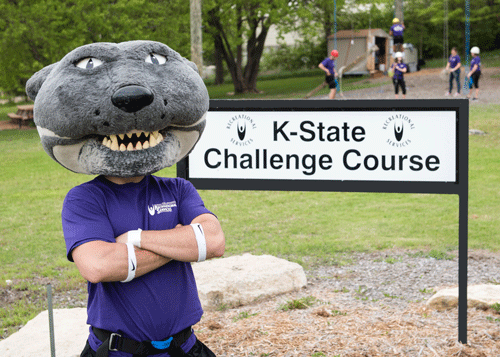 Maintenance Closure
Course is temporarily closed for maintenance.
The K-State Challenge Course is an experiential adventure program that offers groups and individuals the opportunity to engage in a series of personal development and team building activities. A challenge course, commonly referred to as a ropes course, is composed of wood, poles, cables, logs and belaying systems that are used for activities such as ice breakers, group initiatives, and low and/or high element challenges. We have over a dozen low elements, seven high elements, and countless field activities.
We offer customized programming that caters to people of all backgrounds and physical abilities. Groups are led through the course by our trained facilitators. Sessions are available year-round, seven days per week, provided there is daylight and appropriate weather. Anyone ages 12 and up can participate.
Who is the course best suited for?
Any group of people with eight or more people that want to enjoy a fun team building experience.
Why should my group do the course?
There are numerous benefits for groups to visit the Challenge Course. For newly formed groups or new teams, the course offers a chance for the group to get to know each other better and create lasting bonds. For groups that already know each other, the course offers a chance to get away from the normal interaction environment and see and learn about each other in a different light. Course sessions can be planned to focus on specific team building concepts including group problem solving, leadership development, improving communication, building trust, collaboration/cooperation, conflict management, personal growth, and of course to play and have fun! We will do everything we can to help your group meet the specific goals you have for your situation.