Group Fitness
Group fitness is a fun and social way to exercise led by nationally certified instructors. All group fitness classes are free of charge to K-State students and facility card members.
Group fitness class offerings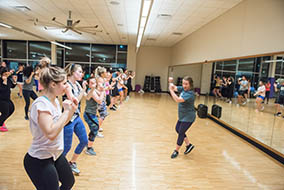 Rec Services provides a wide variety of group fitness classes. Each semester offeres classes based on instructor certification and availability. Some of the various groupfitness classes offered may include: dance, indorr cycling, strength based, yoga, and barre.
Group fitness studio policies
Group fitness policies
A valid K-State student ID or Keytag is required to attend a class.
No patrons under the age of 18 permitted.
Appropriate athletic clothing and closed-toed shoes must be worn. Five-finger shoes are not allowed in the cycle studio.
Street shoes must be removed upon entering the Mind/Body Studio.
Group Fitness Studios will be locked during non-group fitness times.
Only Rec Services staff is permitted to operate audio equipment and unlock equipment storage.
Arrive early. Patrons arriving 10 minutes past the scheduled start time will be not be allowed entrance.
There must be two participants present to conduct a class.
All equipment must stay in the group fitness studio.
Workout towels are mandatory in the cycling studio.
For mind/body sessions, personal mats are permitted and encouraged. When using Rec Services mats, please sanitize mats at the conclusion of class and return to designated storage.
For cycling classes, bikes are available on a first-come, first-serve basis and may not be reserved in advance. Changing bike pedals for clips is prohibited.
Personal items must be stored in a locker or cubby.
Water must be in a sealable container; other drinks are not allowed.
Food is prohibited.
Do not touch mirrors.
Please clean and return all equipment after use.
Please contact Recreational Services staff should an injury or incident occur.
Thank you for observing these policies. Individuals not cooperating with established policies or staff instruction will be asked to leave and may have their privileges revoked. The staff has the authority in policy enforcement.