Locker Rental
Monthly or annual rental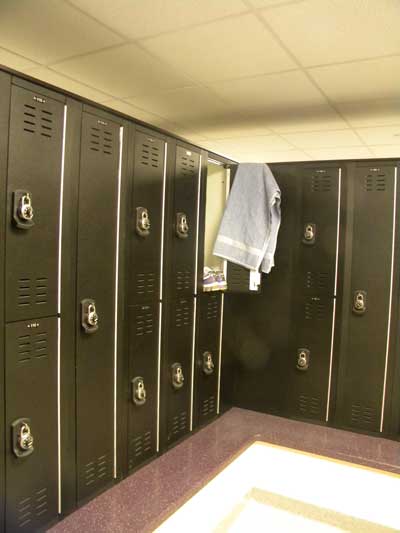 The Recreation Complex has both half and full lockers available in the men's and women's locker rooms. These are available for rent through the administrative office by the month or on an annual basis. No personal locks may be used on rental lockers.
Locker Rental Fees

Half

Full

Monthly

$5.00

$9.00

6-months

$27.00

$48.60

Year

$48.00

$86.40
Locker renewal
Locker renewal reminders are posted on each locker approximately one week before the expiration date. An email reminder is also sent out if an email address is on file. If a locker is not to be renewed, all contents must be removed before the locker expiration date. The issued lock must remain on the locker at all times. Contents not removed will be impounded by Recreational Services and may be reclaimed upon payment of a $3 fee in the administrative office. Contents not claimed within thirty days will be disposed of.
Daily use lockers
Daily use lockers are available to all users at no cost. These are for temporary use only, and the lock must be removed after use each day. A $3 fee will be charged for recovery of contents left in these lockers. Contents not claimed within 30 days will be donated.
Towels
Towels are available for checkout at the service desks.
Lost/stolen items
Recreational Services will not be held responsible for valuables. Participants should secure personal items in a locker.
*No video or photography allowed in the locker rooms