Group Scheduling and Group Pricing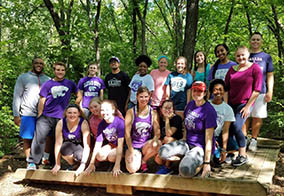 NOW OPEN!!
Accepting reservations for Low Elements only.
For more information, email Alex Hintz at ahintz@k-state.edu.
Interested in scheduling your group?
The course is open during daylight hours on both weekdays and weekends on a reservation only basis. We can tailor each group's schedule and activities based on each group's desires, needs, and goals.
For questions
Call 785-532-6980 for the Rec main office line or email Alex Hintz at ahintz@k-state.edu.
Group Rate Schedule (per person)

Half day
low elements
Half day
high elements
Half day
low/high combo
Full day
K-State student
$8.00
$12.00
$12.00
$15.00
K-State faculty/staff
$12.00
$17.00
$17.00
$22.50
Nonprofit/military
$15.00
$20.00
$20.00
$25.00
Business/corporate/
general public
$20.00
$25.00
$25.00
$30.00
Half day (up to 4 hours): initiatives with either low and/or high elements
Full day (up to 8 hours): initiatives with low and high elements
Reservation Policy
Groups must make reservations at least 14 days in advance of their scheduled challenge course session. Recreational Services will send an email to confirm each reservation and the reservation details.
Cancellation policy
Groups must declare the number of participants who will be in attendance at least 7 days prior to their program. This declaration of attendance is necessary to schedule staff and program the day's events.
Fees will be based on actual attendance or 90% of the declared attendance, whichever amount is larger. Example: You declare 30 students will attend and only 17 arrive. You will be billed for 27 students since 90% of 30 is 27.
Unless you cancel in writing in advance, you will be billed for the above-mentioned fees. Groups must cancel a minimum of 7 days in advance. Notice of cancellation should be made in writing by email to Alex Hintz at ahintz@k-state.edu.
The exception to this policy is in the case of inclement weather. In cases where inclement weather interferes with or cancels a group's reservation, the billing will be adjusted or canceled to account for the inclement weather's effects on the reservation.
Rec Services will make the call on whether to cancel a program due to weather. Note that the course is covered in mulch, so rain or thunderstorms prior to a program has little impact on whether to cancel or not.