Athletic Training Services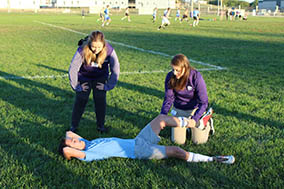 Clinic hours
Normal training room hours during fall and spring semesters are Monday-Thursday 5-11 pm and Sundays from 2-11 pm. These hours may vary slightly depending on each intramural team sports season.
The staff are also on-site for the intramural team and meet sport events. If the athletic trainers are out of the training room, please ask the front desk for assistance in contacting them.
Sports medicine/first aid program
The intramural sports medicine program is made possible through the partnership between Lafene Health Center and K-State Recreational Services. The training room is located between the Northside equipment checkout desk and the MC gym. Sports medicine staff are available to all users of Recreational Services programs.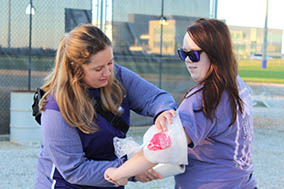 Services provided
Services provided by the intramural sports medicine program include first aid, overnight crutch rental, basic athletic taping, injury evaluation or prevention with a referral for secondary medical evaluation if needed, and equipment and medical supply sales. General questions pertaining to athletic injuries, proper stretching, and strengthening techniques are welcome.
If an injury requires referral for additional medical care, the injured party will be given the option to be sent to the emergency room at Via Christie hospital or provided information to make an appointment with a medical provider at Lafene Health Center.
This service is available at no cost to participants. Funding is through the student activity fee paid at registration.
Sports medicine staff
The director of sports medicine oversees services provided. Graduate assistant athletic trainers provide coverage for intramural events, taping, first aid, and injury evaluation/prevention. They are highly trained in the evaluation, treatment, and rehabilitation of athletic injuries. Student athletic trainers from the athletic training education major provide additional assistance performing basic first aid, taping, and injury assessments.
All graduate assistants are certified with the National Athletic Trainers Association (NATA), as well as licensed with the Kansas state board of healing arts.