Outdoor Recreation Area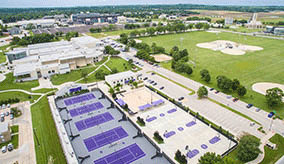 The outdoor recreational area surrounding the Recreation Complex includes these lighted facilities:
playfields for football, soccer, and softball
four sand volleyball courts
six tennis courts
three basketball courts
two 3-wall handball/racquetball courts
A running/walking trail is also available.
The outdoor recreation area is for use of valid Wildcat ID card holders or Rec Services members and the K-State tennis team.
Scheduling priorities
Tennis courts 1-6 are reserved for the K-State Tennis Team on Mon-Fri from 3-6 p.m. and Saturday from 8 am-1 p.m.
Reservations
Play is on a first-come, first served basis. Reservations can be made in advance for use of these areas.
Reservation requirements
Any scrimmages or use of a single field by more than one team will require a reservation.
Special time or certain field use requires reservation.
A reservation is required for the following situations: a) any scrimmages or use of a single field by more than one team; b) special times or certain field usage including lights.
Reservations must be made at least 48 hours in advance.
General facility use policies
Alcoholic beverages, smoking, and tobacco products are prohibited.
Appropriate attire is required.
Under no circumstances will field use be allowed if it is wet or raining. Recreational Services staff will make the final determination concerning playability of fields, up to and including game or use time.

If "no play" signs are posted, please stay off the fields, regardless of current weather.

Other restrictions: Bicycles, skates, roller blades, animals, hockey, golf are not permitted.
Please protect the tennis courts by wearing non-marking shoes.
Private instruction is strictly prohibited.
Backstop signage states "no hardball batting practice." This will be permitted with a catcher with no throwing or hitting directly into fencing.
Failure to comply with these rules will result in immediate removal and loss of privileges.
Lighting Schedule
Monday-Friday

5:30 am-Sunrise
Sunset-midnight

Saturday-Sunday
Hours are subject to change based on weather or facility closures.