Fitness Services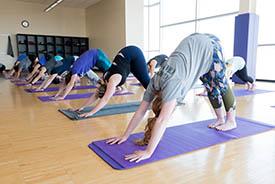 Rec Services strives to provide exceptional fitness programming to promote health and wellness to our K-State campus community. Group Fitness leaders and personal trainers build programs encompassing physical activity, healthy eating, and overall wellness. All fitness services available to K-State students and Rec members include group fitness classes, individualized personal training programs, and educational outreach presentations/workshops. Our goal is to encourage wellness to our K-State community.
All students and Rec members have the option to use Recreational Services' facilities on their own, or as part of an organized program. Personal trainers provide one-on-one or buddy training exercise programs while group fitness leaders offer a wide variety of group fitness sessions.
Questions or concerns regarding fitness services may be directed to Megan our Assistant Director of Fitness & Wellness at 785-532-6980.
Fitness Outreach
Personal trainers and group fitness leaders are available upon request to conduct fitness/exercise-related workshops/presentations at various times throughout the semester. Services may be requested for campus affiliated groups/clubs. Workshops/presentations will be conducted at the Recreation Complex or can be brought to you on campus at the discretion of the Assistant Director-Fitness. All requests require submitting a presentation request form.
There will fee based on the number of participants for educational workshops, presentations, or private classes. Invoices will be sent to the requesting individual or group once the session has been completed. Requests will be scheduled based on the availability of personal trainers and group fitness instructors. Requests must be submitted 2 weeks prior to the requested date. Anything submitted less than 2 weeks out may not guarantee that the session can be arranged.
$30 fee for 50 participants
$60 fee for 50 or more participants