Student Staff Positions
Employment requirements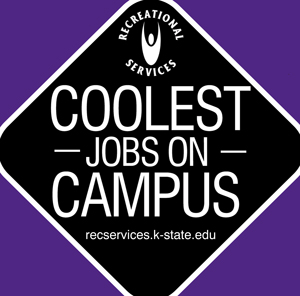 A variety of student employment opportunities are available with Recreational Services. Positions are filled by students who are currently enrolled at Kansas State University. Students must be enrolled in at least 6 credit hours during the fall or spring semester. For summer employment, a student must
have been enrolled in no fewer than 6 hours in the past spring semester, or
be pre-enrolled in the upcoming fall semester in no fewer than 6 hours, or
be enrolled in the summer semester for any number of credit hours
Incoming freshmen and transfer students are eligible to apply for positions before arriving on campus.
Student hourly wages begin at $7.50 per hour or more, depending on the position. Employees are eligible for a step increase at the beginning of each semester, provided they work the minimum number of hours required and have an above satisfactory work evaluation.
---
Currently Hiring for the following positions. Click on the position for more details.
Personal Trainers
Personal Trainers will work with patrons on their personal fitness goals. All personal trainers much have a nationally accredited certification or are working towards one.
For more information or to apply