Access and Services for Patrons with Disabilities
Recreational Services is committed to providing programs and facilities to patrons with disabilities. Staff is always available to assist should a person need help or have a question or concern. Please direct any concerns or suggestions to the Recreational Services administrative staff.
Recreation Complex
Designated parking is available.
The Recreation Complex is accessible with push-button front doors on the east side of the main entrance. All areas are accessible, and an elevator is available for easy access to each floor.
Depending on the disability, there are a variety of aerobic weight machines and free weights available for use. Additionally, the following are available:
Dual Adjustable Pulley
Ideal for strengthening all muscles in the body. This piece of equipment can be adjusted to 15 different positions and numerous attachments can be added to exercise every muscle in the body.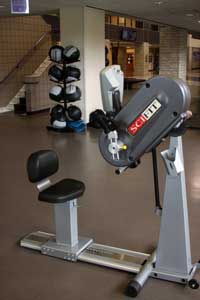 SciFit Pro1 Upper Body Exerciser
Ideal for strengthening arms and shoulders. The versatile PRO1 features adjustable tilt head to accommodate users of all heights and for overhead exercise.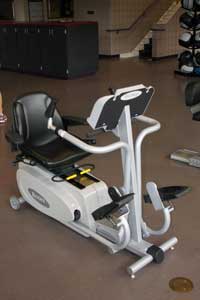 REX Total Body Recumbent Elliptical
Provides an optimized blend of upper and lower body exercise. The low profile seat back allows for torso rotation and increased core recruitment. The swivel seat allows for easy entry.
Accessible parking
Vehicles parked in accessible spaces must display both a medical permit and a K-State parking permit. Parking permits are required Monday-Friday from 7 a.m.-4 p.m. at the Peters Recreation Complex. Permits are available for purchase at Parking Services. For those not possessing a K-State parking permit, metered parking is also available. Parking Services allows persons with disabilities to park in metered stalls at no charge if designated parking stalls are not available as long as a medical permit and a K-State parking permit are displayed. For more information concerning special permits, contact K-State Parking Services at 785-532-7275.
Shuttle service
Shuttle service is provided as a courtesy by K-State for eligible students with either a temporary injury or permanent disability. For more information, students should contact the Student Access Center at 785-532-6441 or accesscenter@k-state.edu.